As Americans become more health conscious as a society, many people look for ways to improve their physical fitness. One popular way is through cardiovascular exercise, and many people seek to purchase a treadmill for home use in lieu of a gym membership. But who among Target, Walmart, and Kmart provides the best quality and value?
Walmart:
Walmart offers the Cadence G 5.9 Treadmill, priced at a very competitive $287. The treadmill includes 6 different personal trainer workouts included, and comfort cell cushioning to reduce the impact on a runner's joints. For those who enjoy tracking their heart rate during a workout, that is also included in the treadmill package. The treadmill receives very good reviews, with a 4.3 out of 5 average. It comes with a 1 year limited warranty upon purchase.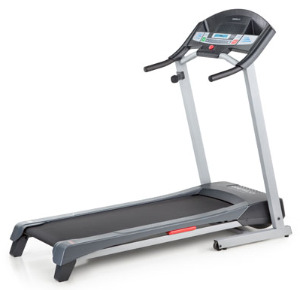 Walmart's Cadence Treadmill
Target: Target offers an enhanced version of the Cadence Treadmill found at Walmart, the Cadence C44. The C44 is priced at $399. It includes an LCD display, however it does not have personal training workouts included. It also includes a heart rate monitor. It is constructed with steel, and is very durable. Target provides a 90 day manufacturers warrant on the treadmill.
Target's Cadence Treadmill
Kmart: Kmart offers the CrossWalk 5.0 treadmill, which is made by Weslo. It is priced at $299. The treadmill includes 4 built in workout programs, and a 2.25hp motor. It also includes the "easy pulse" heart-rate monitor. Its most unique feature is the crosswalk arms, which allow a user to work their arms as well as their legs, allowing for more calorie burning. Kmart provides a 90 day warranty on the treadmill.
Verdict: Walmart. Walmart's treadmill is the lowest priced, and includes the best warranty. While each treadmill has respectable features (with the crosswalk arms being especially innovative) Walmart's low price and long-term warranty make it the best option for treadmills.